Coming soon
Book 2 of the Shady Park Chronicles. (Book 1 is First World Problems.)
A school shooting and groundswell of demand to arm teachers challenges a young reporter for the Shady Park Ledger to find out and report what really happened. Everyone is sure the shooter was a terrorist. A woman who wears a hejab is arrested, but Anthony believes she's not guilty and works to find out who is. Luckily he has the help of the beautiful Pari, who encourages him to keep reporting the facts despite the publisher's threats to fire both of them.

Contact Rea to request a free Kindle or ePub advance review copy of Shady Park Panic.
General
I was Professor of English at Anne Arundel Community College from 1978 to 2013, when I retired. Before that I taught at the University of South Carolina, Voorhees College, the University of Tehran, and at schools in Japan, and Greece.
Background of A Hundred Veils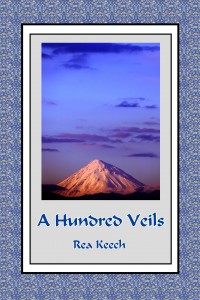 I served in the Peace Corps in Iran from 1967 to 1969. My assignment was to teach English at the University of Tehran. This was during the reign of the Shah when the country was still tightly under his control. American Peace Corps volunteers couldn't help but notice a submerged resentment of the Shah's rule. Despite this, living in Iran was one of the most fulfilling experiences of my life, and I wanted to write a book celebrating the warmth and kindness of the Iranian people.
Background of First World Problems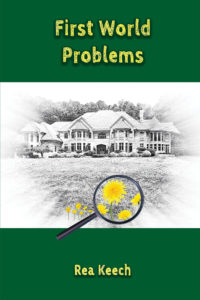 I've lived in the same house in Severna Park, Maryland, since 1980. I love being able to walk down to the Severn River and (more rarely as I get older) go for a sail in my small boat. Life is good here.
It's not as good for people I've known in poorer countries, in the third world, as they call it. At the community college, I taught international students for many years and heard their stories. Refugees arrived in my class after the war in Vietnam and Cambodia. Later some of my students were fleeing the fighting in Afghanistan. The stories of some of them were heartbreaking.
I sometimes felt it was comical when my countrymen complained about minor inconveniences. I felt embarrassed to hear them talk disparagingly about people who had less than they had while at the same time seeming  to admire people with money and power even when they were being exploited by them. I read stories in the newspaper about bribery and corruption and wanted to draw my own picture of contemporary American society.
This is what Gustave Flaubert did when he read a report in a newspaper and wrote his novel Madame Bovary.  He saw his own society as comical, embarrassing, easily manipulated by people with money and status. I decided to name my characters after his Emma and Charles . Except my Emma Bovant is not as easily manipulated Flaubert's Emma Bovary.
Iranian Cultural Immersion Night through Literature, Poetry, and Music
Anne Arundel County Library, Crofton Branch
August 7, 2017
Rea Keech presented his novel A Hundred Veils, accompanied by the Persian Arts & Cultural Communities musicians, Mr. Shabahang (setar) and his wife (vocalist).